CLIENT : BOUYGUES TELECOM
AGENCY : BETC Paris
YEAR : 2017

As Internet is guaranteed for all Bouygues Telecom clients, we decided to go even further and offer them the impossible: the first offline website. 
A unique, text based website that you can only browse when your wifi is off, with hours of everything you love about the internet... without the Internet. 
This campaign was an excuse to bring to life pages and pages of copy, to write  100% raw text alternatives of all our online habits. 
Here is what we made, leading to a Gold award at the French Art Director's Club in copywriting in 2018, and a Cannes lions shortlist in copywriting. 


French version (original) :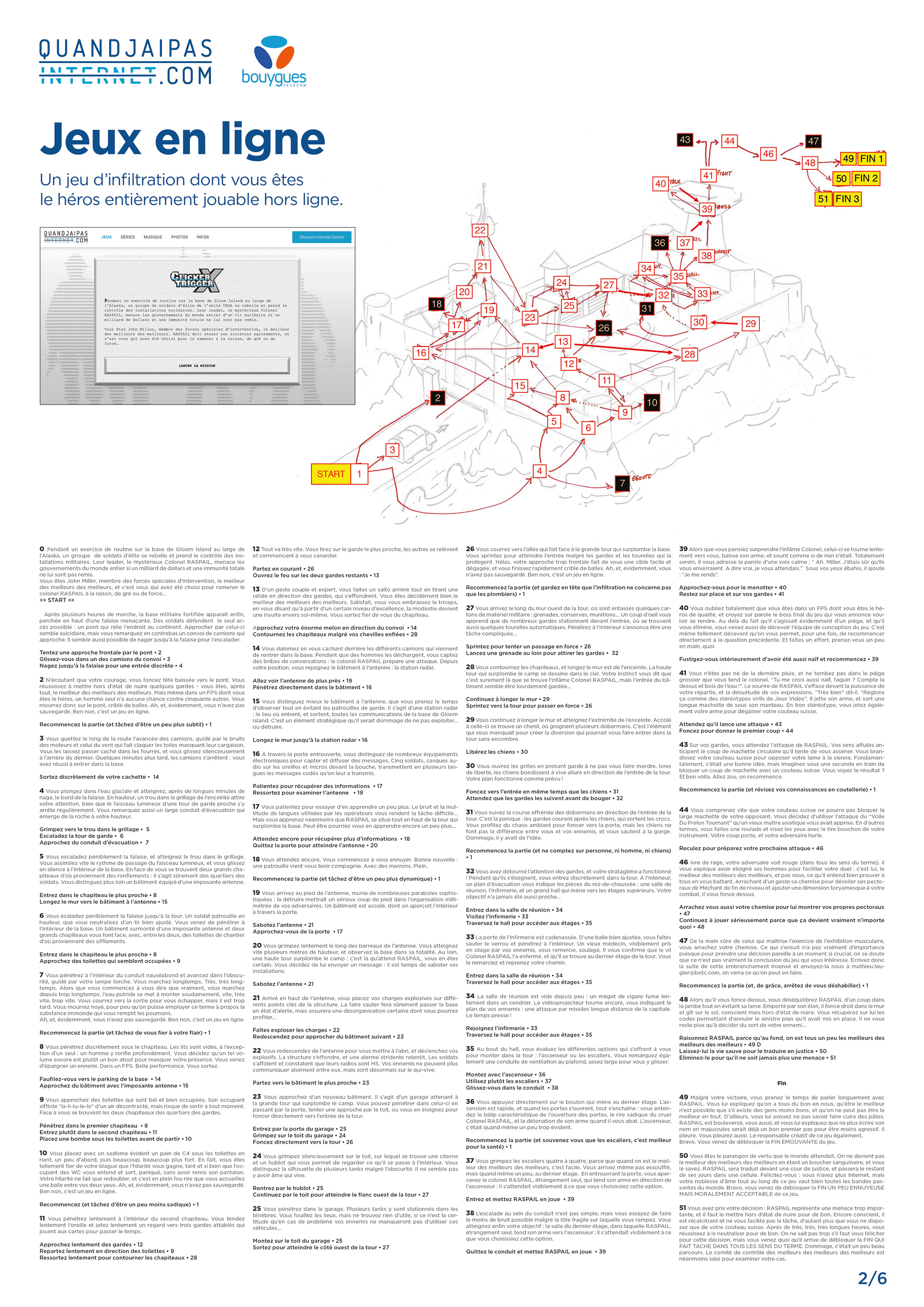 CLIENT : BOUYGUES TELECOM
AGENCY : BETC Paris
YEAR : 2017
EXECUTIVE CREATIVE DIRECTOR : Stéphane Xiberras
CREATIVE DIRECTOR : David Soussan
COPYWRITER : Matthieu Bouilhot
COPYWRITER : Arthur Cieutat
ART DIRECTOR : Pierre Jungers
ACCOUNT DIRECTOR : Mathieu Laugier
ACCOUNT MANAGER : Quentin Derviso
ACCOUNT MANAGER : Elodie Colin
ACCOUNT MANAGER : Andrea Janroy
DIGITAL PRODUCER : Julie Delachaux
DIGITAL DIRECTOR : Maxime Huyghe
DIGITAL PRODUCER : Lara-Jane Lelievre
TECHNICAL LEAD : Alexis Galbourdin
UI DESIGNER : Quentin Goupille
UI DESIGNER : Quentin Waret
FRONT END DEV : Nicolas Bages
BOUYGUES BRAND MANAGEMENT : Tanguy Moillard
BOUYGUES BRAND MANAGEMENT : Anne-Laure Dreano